Please visit our store in Lihue, HI, to see these and other products at our retail store.
Phone orders of our current store inventory are welcome.
Koa Urn
Memorial Keepsake
10″ x 8″ x 6″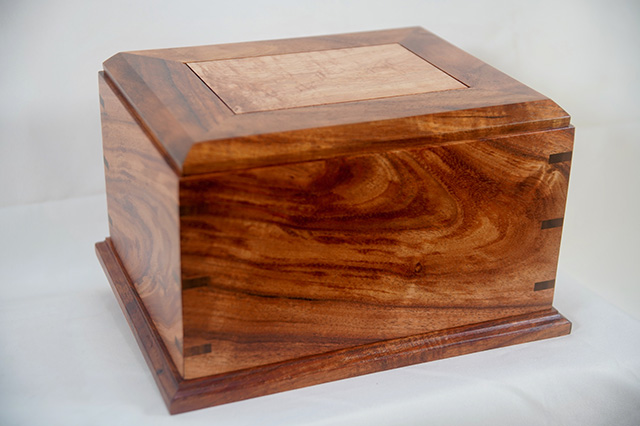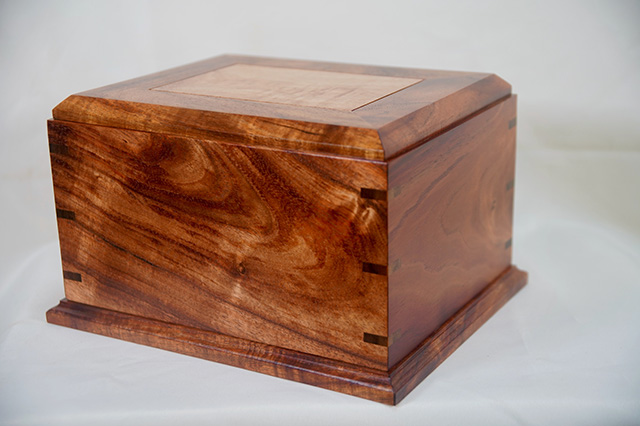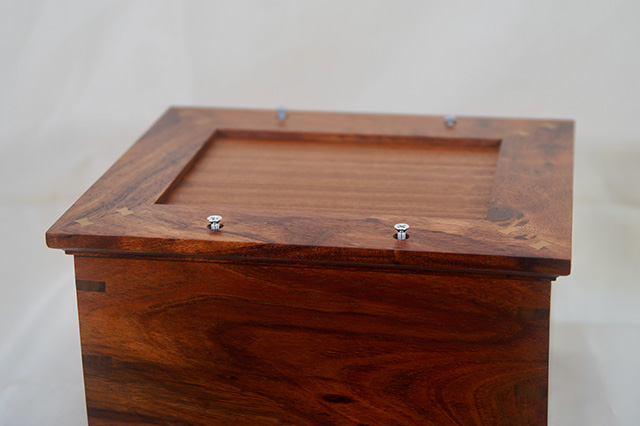 Other Featured Product Examples
Come see our entire collection at the store!
And have a look into the workshop through our viewing window!
About our quality and craftsmanship:
All Koa products are handcrafted in our workshop on the Island of Kauai by a team of woodworkers using very basic hand and power tools. Our craftsmen take great care in the fit and finish of each and every item made. All items are constructed using traditional, time-honored woodworking techniques to ensure lasting quality.
Product Care Tips:
We finish all products, other than those used near food, with a multi-step, hand-rubbed, lacquer finish that completely seals and protects the wood. Various formulations of lacquer are used depending on whether the product's use is decorative or furniture. However, all require minimal care.
A quick rub with a damp cloth, followed by a dry cloth is all that is required to keep any of your items looking great for years. The wood is completely sealed, so you are dealing with the finish, not the wood itself. Commercial products (e.g. Pledge) contain either silicones or waxes which may impart a shine to the surface and help to repel dust in some cases, but do nothing to the wood itself.
Products used around food, such as chopsticks and cutting boards, are finished with Macadamia Nut oil. These can be cleaned with soapy water (never soaked in water), rinsed and wiped dry. If the surface becomes dull, simply re-apply any NUT oil, such as Macadamia, Walnut or Hazelnut (peanut oil is not nut oil), which will dry. We do not recommend mineral or vegetable oils – while they will not hurt your item, they do not dry and tend to leave a sticky surface.
The sun is any wood product's enemy. Keep all wood out of direct sunlight.
3-3601 Kuhio Highway
Lihue, HI 96766
USA